SEPTEMBER SALE!! Save Up To $76.05 On Your Cloud+ Exam!
Order Cloud+ Voucher Now
and Save More TODAY while supplies last! You may redeem the voucher and take your Cloud+ exam by the voucher expiry date.
If you are going to use the vouchers outside of US and Canada, please go to
International Cloud+ Vouchers
.
COMPTIA CLOUD+ CERTIFICATION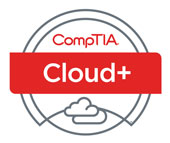 CompTIA Cloud+ certification validates the knowledge and best practices required of IT practitioners working in cloud computing environments, who must understand and deliver cloud infrastructure. GraceTech Solutions sells discounted Cloud+ exam vouchers, allowing you to SAVE MONEY immediatly on your Cloud+ exam.
GRACETECH SOLUTIONS - YOUR BEST CHOICE FOR COMPTIA CLOUD+ VOUCHERS
There are two CompTIA Cloud certifications: CompTIA Cloud+ (CV0-003) is for the advanced level, and CompTIA Cloud Essentials (CLO-002) is for the entry level. Visit CompTIA Official Cloud+ Site for more information.
CompTIA Cloud+ Remote Online Testing Now Available!
ORDER COMPTIA CLOUD+ VOUCHERS

CompTIA Cloud Plus (+) voucher is a discounted, pre-paid permit to write the exam. The voucher number (or so-called voucher code) is all you need to register and take your exam at an authorized Pearson VUE testing center or online at home. You don't have to pay any extra fee.
Learn More about Our Voucher Program | Register Your Onsite or Online Proctored Exam
This page is for
North America
Cloud+ Vouchers only. For the vouchers to be used outside of US and Canada, please go to
Cloud+ International Vouchers
.
LOOKING FOR COMPTIA Cloud+ VOUCHERS & TRAINING MATERIALS?
Our CompTIA Cloud+ Vouchers are bundled with the reference guide without any extra charge. Also, to get yourself fully prepared and save your money, you may purchase CompTIA CertMaster official training products from us with a big discount. Through our Vouchers-In-Minutes services, you can get the Cloud+ voucher just within a few minutes after placing your order, and the CertMaster Access Key will be delivered to you in 8 hours. No holiday, no weekend, we work 24x7 for you !
Note:

Vouchers, reference guides, and CompTIA CertMaster are all non-refundable, and the voucher expiry date cannot be extended. Please see Important Notes For Vouchers And Other Products.
Cloud+ vouchers are valid in North America only. One test voucher is good for one exam only. If you are looking for the vouchers to be used outside of US and Canada, please go to Cloud+ International Vouchers.
If you fail the exam using the voucher from Retake Bundle, you will receive a retake voucher for a second attempt at the failed exam. The transcript must be emailed to us for the validation, then we will send you a retake voucher via email. There is maximum 1 retake included in this bundle.