CertMaster is an official products from CompTIA. It's a revolutionary new way to learn and prepare for your certification exam. CertMaster can help you master the CompTIA curriculum, gain confidence and make learning fun. It's your study companion that includes all you need to learn, understands how you learn and helps you succeed on your exam.
CompTIA CertMaster covers all the objectives of the exam just like a traditional reference guide, but CertMaster has more to offer. It's a clever online tool that uses brain science expertise and game design techniques to help you remember information longer and recall it when it counts - on the exam. Plus, you learn at your own pace: CertMaster bookmarks your progress and you continue where you left off the next time you log in.
CompTIA CertMaster is available for the following exams:
CompTIA A+ 220-801
CompTIA A+ 220-802
CompTIA Network+ N10-005
CompTIA Security+ SY0-301
CompTIA Strata IT Fundamentals FC0-041
Visit CompTIA CertMaster Official Website for more detailed information.
Whether you are an IT professional and you want to take your IT to the next level with a CompTIA certification, or you are an employer with IT technicians and IT staff, CompTIA CertMaster is a great way to prepare yourself or help others prepare for their exam.
The Key Features of CompTIA CertMaster include:
Powerful Certification Preparation From CompTIA
Confidence-based Adaptive Learning Solution
Leverages Game-based Learning Techniques
Learn Fast With Increased Retention
Android & iOS Apps For Anywhere, Anytime Learning
1 Year Online License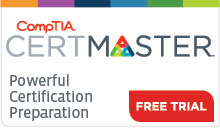 Are you interested in trying CompTIA CertMaster's new online study tool?
This tool dramatically improves your ability to master the course concepts in preparation for certification. CertMaster uses the latest science of how the brain learns and remembers to help you quickly learn and retain large amounts of technical information.
Usually, you would purchase CompTIA CertMaster from CompTIA Marketplace. However, you can purchase CompTIA CertMaster from us with the discounted price and save more on your preparation.
CompTIA CertMaster products are non-refundable. Please see Important Notes for Test Voucher and All Other Products before purchase.
After you place an order for CompTIA CertMaster, you will receive an email containing the product access code and instructions in 8 hours. CompTIA CertMaster products are offered to individual users through a one year single-user license. The CompTIA CertMaster online license will expire and no longer be valid after the expiration date.