CompTIA Online Testing Available Starting April 15, 2020 - Exam takers concerned about test center closures can now take CompTIA exams from home. Visit CompTIA's web site for more details.
CompTIA's exams are delivered through VUE's system. VUE provides two delivery options for all CompTIA exams. You may choose to take the exam at a local test center, or at your home or office. (see screen shot)
×
At a local test center
This is a public institution available for delivering your exam.
At your home or office
VUE online proctored exams allow you to conveniently take an exam in the comfort of your home or office.
Our CompTIA vouchers can be used for taking the exam at a local test center, or at your home or office.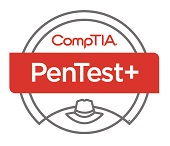 CompTIA PenTest+ is the only penetration testing exam taken at a Pearson VUE testing center with both hands-on, performance-based questions and multiple-choice, to ensure each candidate possesses the skills, knowledge, and ability to perform tasks on systems. PenTest+ exam also includes management skills used to plan, scope, and manage weaknesses, not just exploit them.
PenTest+ is unique because our certification requires a candidate to demonstrate the hands-on ability and knowledge to test devices in new environments such as the cloud and mobile, in addition to traditional desktops and servers.
Visit CompTIA's Official Web Site for more information.