CompTIA Online Testing Available Starting April 15, 2020 - Exam takers concerned about test center closures can now take CompTIA exams from home. Visit CompTIA's web site for more details.
CompTIA's exams are delivered through VUE's system. VUE provides two delivery options for all CompTIA exams. You may choose to take the exam at a local test center, or at your home or office. (see screen shot)
×
At a local test center
This is a public institution available for delivering your exam.
At your home or office
VUE online proctored exams allow you to conveniently take an exam in the comfort of your home or office.
Our CompTIA vouchers can be used for taking the exam at a local test center, or at your home or office.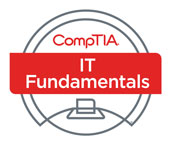 The CompTIA IT Fundamentals exam is designed to help you learn more about the world of information technology (IT). It¡¦s ideal if you¡¦re considering a career in IT or if you work in an allied field that requires a broad understanding of IT. CompTIA IT Fundamentals can also be a stepping stone to more advanced certifications such as CompTIA A+, and, with specialized experience, CompTIA Network+ and CompTIA Security+.
Please visit CompTIA's Official Web Site for more information.