CompTIA Online Testing Available Starting April 15, 2020 - Exam takers concerned about test center closures can now take CompTIA exams from home. Visit CompTIA's web site for more details.
CompTIA's exams are delivered through VUE's system. VUE provides two delivery options for all CompTIA exams. You may choose to take the exam at a local test center, or at your home or office. (see screen shot)
×
At a local test center
This is a public institution available for delivering your exam.
At your home or office
VUE online proctored exams allow you to conveniently take an exam in the comfort of your home or office.
Our CompTIA vouchers can be used for taking the exam at a local test center, or at your home or office.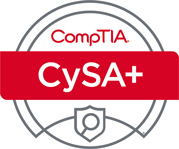 CompTIA Cybersecurity Analyst (CySA+) is an international, vendor-neutral cybersecurity certification that applies behavioral analytics to improve the overall state of IT security. CySA+ validates critical knowledge and skills that are required to prevent, detect and combat cybersecurity threats.
CompTIA CySA+ is for IT professionals looking to gain the following security analyst skills:
Configure and use threat detection tools
Perform data analysis
Interpret the results to identify vulnerabilities, threats and risks to an organization
Visit CompTIA's Official Web Site for more information.