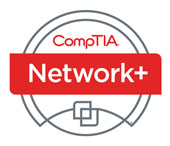 CompTIA Network+ certification proves knowledge of networking features and functions and is the leading vendor-neutral certification for networking professionals.
Candidate job roles include network administrator, network technician, network installer, help desk technician and IT cable installer. Companies such as Dell, HP, Ricoh, Sharp and Xerox recommend or require CompTIA Network+ for their networking technicians. The U.S. Department of Defense also recognizes CompTIA Network+.
Visit CompTIA's Official Web Site for more information.