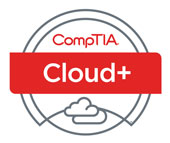 The CompTIA Cloud+ certification validates the knowledge and best practices required of IT practitioners working in cloud computing environments, who must understand and deliver cloud infrastructure. Recommended experience includes at least 24-36 months of work experience in IT networking, storage, or data center administration, and familiarity with any major hypervisor technologies for server virtualization.
Jobs that use CompTIA Cloud+:
Project manager, cloud computing services
Cloud engineer
Manager, data center SAN
Business analyst, cloud computing
There are two CompTIA Cloud certifications: CompTIA Cloud Essentials is for the entry level and CompTIA Cloud+ is for the advanced level.
Visit CompTIA's Official Web Site for more information.