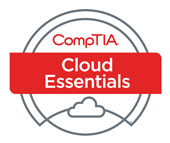 The CompTIA Cloud Essentials specialty certification demonstrates an individual knows what cloud computing means from a business and technical perspective, as well as what is involved in moving to and governing the cloud.
The CompTIA Cloud Essentials exam covers:
Characteristics of cloud services from a business perspective
Business value of cloud computing
Technical perspective/cloud types
Steps to successful adoption
Impact and changes on IT service management
Risks and consequences
There are two CompTIA Cloud certifications: CompTIA Cloud Essentials is for the entry level and CompTIA Cloud+ is for the advanced level.
Visit CompTIA's Official Web Site for more information.