Certiprep for MOS 2003 is a official product from Certiport. It is the premier comprehensive solution for Microsoft Office Specialist (MOS) 2000/XP/2003 certifications, designed to accurately simulate the actual testing environment. Certiprep for MOS 2003 combines challenging questions with immediate feedback, training, and scoring.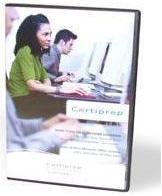 The important features include:
Higher probability of passing certification exams
Unlimited time and usage for one year
Contains more than 1000 Questions, simulating the real exams
Look and feel of the actual Microsoft exam
Complete Training Mode: Provides practical, step-by-step assistance and training
Complete Testing Mode: (1) A practical assessment of learned skills (2) Realistic simulation of certification exams (3) Practice tests reduces test anxiety and builds confidence
Includes Office applications: Word, Excel, PowerPoint, Outlook, Access
Includes Office versions: Office 2000, Office XP (also known as Office 2002), Office 2003
Highly cost effective. Buy Certiprep once and use it for all your MOS certifications.
Click Here or visit http://www.certiport.com/portal/common/htmllibrary/certiprep/home.html for more details about Certiprep for MOS 2003.
Looking for Certiprep Practice Exam for MOS 2007?
See Certiprep for MOS 2007 for more details.
Looking for Microsoft Official Pre-Test to help you identify your level of skill on 2007 Microsoft Office or Windows Vista?
See Microsoft Official Pre-Test for more details.
Usually, you would purchase Certiprep for MOS 2003 (Retail $) from Certiport at http://shop.certiport.com. However, you can purchase Certprep for MOS 2003 from us with the discounted price and save more on your practice exam.
Certiprep practice exams are non-refundable. Please see Important Notes for Test Voucher and All Other Products before purchase.
Certiprep Practice Exam for MOS 2003 is very easy to install and run at your computer. Click Certiprep User Guide V1.4 to view the details. Please note that because Certiprep Practice Exam for MOS 2003 uses the actual Microsoft applications for a true-to-life simulation, you must have Microsoft Office installed to use the program.
Note:
Sorry, Certiprep Practice Exam for MOS 2003 is no longer available as Certiport has dicontinued all Certiprep products.
You may now use GMetrix Practice Test to prepare for your MOS exams. GMetrix use the same exam format as the certification exams and are mapped to the certification objectives so a test-taker is assured that he/she is learning and practicing the skills that will help him/her pass the certification exam.