Certiprep 2010 is an official product from Certiport. It is the premier practice test solution for Microsoft Office Specialist 2010 (MOS 2010) certifications. Certiprep2010 is designed to accurately replicate the certification testing environment for Word 2010, Excel 2010, PowerPoint 2010, Outlook 2010, and Access 2010, and maps directly to exam objectives. Certiprep employs the same "live application" technology used in the real exams.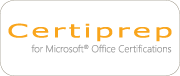 The important features include:
Performance-based technology similar to the certification exams offers an authentic certification exam experience
Two levels of preparation - Learning Mode and Practice Test - giving test-takers self-paced learning and a testing experience that's just like sitting for the actual exam
Learning Mode provides feedback on each question, step-by-step instruction, and an exhaustive set of questions covering all objectives
Practice Test provides a testing experience (including time limitations and interface) nearly identical to the certification exams that assesses initial skills or certification exam preparedness
Visit http://www.certiport.com/certiprep for more details about Certiprep for MOS 2010.
Looking for Certiprep Practice Exam for Microsoft Office 2000, XP, and 2003?
See Certiprep Practice Exam for MOS 2003 for more details.
Looking for E-Learning courses targeted for MOS 2007 certification?
See E-Learning for MOS 2007 for more details.
Looking for Microsoft Official Learning Plan Assessment to help you identify your level of skill on 2007 Microsoft Office or Windows Vista?
See Microsoft Official Learning Plan Assessment for more details.
Usually, you would purchase Certiprep for MOS 2010 from Certiport at http://shop.certiport.com. However, you can purchase Certprep for MOS 2010 from us with the discounted price and save more on your practice exam.
Certiprep for MOS 2010 is offered to individual users through a single-user license. The software can be used without limitation before the expiration date on any machine with the software installed, and is available as a download after purchase.
Certiprep practice exams are non-refundable. Please see Important Notes for Test Voucher and All Other Products before purchase.
Certiprep 2010 is accessed through the Internet. The Single User Version of Certiprep is hosted on a set of remote servers managed by Certiport. A client program called the "2X ApplicationServer Client" (less than 10 MB) must be installed to your desktop or laptop computer. You can use your license on more than one machine. You will be prompted to enter your license key the first time you install Certiprep. That license is then assigned to you and will be recognized from any other computer running the Certiprep software until the license expires.
For best results, you should follow the instructions below:
High-speed connection (150 Kbits per second or above) is recommended.
Before launching Certiprep 2010, you must hide your task bar. (Right-click on an empty area of your task bar and select Properties. In the properties menu, place a check mark in the option for Auto-hide the Taskbar.)
If your computer system uses dual monitors, you must disable dual-monitor mode before using Certiprep 2010.
If your computer system uses a firewall, you may need to disable it in order to use Cetiprep 2010.
You may click Certiprep User Guide to view the details, or visit Certiprep Technical Requirements and Support to see a full list of technical requirements, support, and FAQs, including score-report printing.
Our support team would provide all technical supports for you. If you encounter any technical problems, you may contact Certiport's support team at http://www.certiport.com/PORTAL/Common/PageLibrary/Support.htm, or reach the support team by phone at 1-888-222-7890 (U.S. & Canada) or (801) 443-3150 (International).
Note:
Sorry, Certiprep Practice Exam for MOS 2010 is no longer available as Certiport has dicontinued all Certiprep products.
You may now use GMetrix Practice Test to prepare for your MOS 2010 exams. GMetrix use the same exam format as the certification exams and are mapped to the certification objectives so a test-taker is assured that he/she is learning and practicing the skills that will help him/her pass the certification exam.