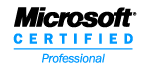 The Microsoft Certified IT Professional (MCITP) certifications demonstrate comprehensive skills in planning, deploying, supporting, maintaining, and optimizing IT infrastructures. The MCITP credential lets you highlight your field of expertise. Now you can distinguish yourself as an IT professional with the current skills and proven job-role capabilities to work effectively with a comprehensive set of Microsoft technologies.
Visit MCITP Official Web Site for more detail information.

MCITP Test Voucher is also referred to as MCITP Voucher, MCITP Exam Voucher, MCITP Discount Voucher, MCITP Certification Voucher, or MS MCITP Voucher.
MCITP Test Voucher is a discounted, pre-paid permit to write the exam. Usually, you would pay at the test center or pay to Prometric for your MCITP exam. But to take advantage of our voucher program, you can purchase the discount MCITP test voucher from us and save money immediately on your MCITP exam. The voucher number is all you need to register for your exam. To learn more about our voucher program, click Here.
We offer the Microsoft vouchers as follows:
Microsoft Generic vouchers

Valid for Microsoft 70-xxx, MD-xxx, MS-xxx, MB-xxx, MBx-xxx, AI-xxx, AZ-xxx, DP-xxx, DA-xxx, PL-xxx, and SC-xxx series exams.
When you use the voucher, you don't have to pay any fee for the exam.
One voucher is good for one exam only.
Through our Vouchers-In-Minutes services, you can get the MCITP test voucher just within few minutes after placing your order. No holiday, no weekend, we work 24x7 for you !
This page is for North America Microsoft Voucher only. For the vouchers to be used outside of US and Canada, please click International Microsoft Voucher.
To register for an exam with Pearson VUE: The easiest way is to visit http://www.microsoft.com/learning, sign in, find the exam you want to take, and click the "Schedule with Pearson VUE" button. Pearson VUE's registration is integrated with the Microsoft system so no additional logins are needed. Appointments may be made in advance or on the day you wish to test, subject to availability. Pearson VUE also offers scheduling by phone and directly through the test center, but you must create a profile on http://www.microsoft.com/learning before you can use these additional scheduling options. Creating a profile is a one-time requirement.
Note:
1.
Vouchers, study guides, practice exams, and online courses are all non-refundable, and the voucher expiration date cannot be extended. Please see Important Notes for Test Voucher and All Other Products before purchasing the MCITP test voucher.
2.
One Microsoft Generic Voucher can be used for ANY one of Microsoft 70-xxx, MD-xxx, MS-xxx, MB-xxx, MBx-xxx, AI-xxx, AZ-xxx, DP-xxx, DA-xxx, PL-xxx, and SC-xxx series exams . To learn more information and review a current list of Microsoft exams, please visit https://www.microsoft.com/en-us/learning/exam-list.aspx