E-Learning for MOS 2007 Certification is an official product from Certiport. It offers flexible learning with interactive content that engages test candidates preparing for Microsoft Office 2007 certification anytime, anywhere at the click of a mouse. Each application-specific course helps develop Microsoft Office skills through online activities, exercises, games, and hands-on virtual labs.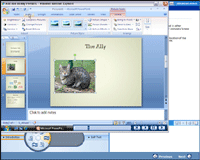 The state-of-the-art learning includes:
Available for all Microsoft Office 2007 certification exams, including Microsoft Word, Excel, PowerPoint, Outlook, Access, and Windows Vista
Features the most up-to-date content developed by Microsoft technology experts for the most relevant learning experience available
Accessible anytime, anywhere through the Internet - making it easier to incorporate learning for certification into individual schedules
Each application course contains 5-8 lessons, and the duration of each lesson is 1-2 hours
Targeted learning for certification: Offers pin-point learning on weaker skill areas for the exam
Addresses multiple learning styles, allowing individuals to learn the way they want to learn: through activities, exercises, games, and hands-on virtual labs
Test Candidates can assess their knowledge before and after training, as well as track their progress and save their learning history
Visit http://www.certiport.com/elearning for more details about E-Learning for MOS 2007.
Looking for Certiprep Practice Exam for MOS 2007 (Office 2007)?
See Certiprep Practice Exam for MOS 2007 for more details.
Looking for Microsoft Official Learning Plan Assessment to help you identify your level of skill on 2007 Microsoft Office or Windows Vista?
See Microsoft Official Learning Plan Assessment for more details.
Usually, you would purchase each E-Learning course for MOS 2007 with the retail price of $49. But now, you can purchase it from us with the discount price of $39 and save $10 immediately on your E-Learning course.
The E-Learning course for MOS 2007 is offered to individual users through a single-user license. The E-Learning course can be accessed through the Internet without limitation before the expiration date.
The E-Learning courses are non-refundable.
The E-Learning course for MOS 2007 is accessed through the Internet. In order to self-enroll for E-Learning content, an Access Key is required. After purchasing the E-Learning license, the E-Learning Access Key and instructions will be delivered to you via e-mail within 3 business days. To begin using E-Learning, you need to visit http://certiport.training.com to create a User profile and get started. Then, you can use the E-Learning course without limitation until the E-Learning license expires.
For best results, you should follow the instructions below:
High-speed connection (56K or higher) is needed (broadband recommended).
1024 x 768 or higher screen resolution at 256 colors or above is required.
System cannot be behind a firewall that blocks cookies or blocks access to a secure server.
You may click E-Learning User Guide to view the details, or visit E-Learning Technical Requirements to get a full list of technical requirements.
Our support team would provide all technical supports for you. If you encounter any technical problems, the following support options are available:
Note:
Sorry, MOS 2007 E-Learning is not available at this moment.
You may now use GMetrix Practice Test to prepare for your MOS 2007 exams. GMetrix use the same exam format as the certification exams and are mapped to the certification objectives so a test-taker is assured that he/she is learning and practicing the skills that will help him/her pass the certification exam.