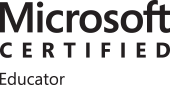 The Microsoft Certified Educator (MCE) program provides robust tools that help educators drive best-in-class integration of information and communication technology (ICT) into classroom instruction. Mapped to the UNESCO ICT Competency Framework for Educators, MCE program resources include a free self-assessment, free customized eLearning, and the Technology Literacy for Educators (62-193) certification exam. Each of these learning and validation steps aligns to six key aspects of ICT and pedagogy integration:
Education Policy
Curriculum & Assessment
Pedagogy
ICT/Technology Tools
Organization & Administration
Professional Development
The Technology Literacy for Educators exam (62-193) does not assess proficiency in using specific technology tools but whether an educator or administrator understands how to assimilate ICT tools into the six content domains listed above. This exam is designed to validate these skills in pre-service and in-service educators.
Visit Certiport's MCE Official Site for more details.
Microsoft Certified Educator (MCE) test voucher is also referred to as Microsoft MCE voucher, MCE exam voucher, MCE discount voucher, or MCE certification voucher.
Microsoft MCE test voucher is a discounted, pre-paid permit to write the exam. Usually, you would pay at the test center or shop at http://shop.certiport.com for your Microsoft MCE exam.

But to take advantage of our voucher program, you can purchase the discount MCE test voucher from us and save money immediately on your MCE exam. The voucher number is all you need to register and take your exam. To learn more about our voucher program, click Here.
The Microsoft MCE test voucher can be used for the following MCE exam:
62-193: Technology Literacy for Educators
Please note that some Certiport centers may charge the proctoring or administration fee which varies. So please check with the Certiport center before booking your Microsoft MCE exam with them.
The Microsoft MCE Test Voucher is valid in United States only. Vouchers will be delivered via email in 1~2 business days after you place the order.
Microsoft Certified Educator (MCE) test vouchers can be redeemed at Certiport testing centers (or so-called iQcenters) in United States. Please note that MCE exams are not offered by Pearson VUE or Thomson Prometric. Visit Certiport's official web site: http://www.certiport.com for more details about the registration.
Registration:
How to redeem the voucher and register an exam at Certiport Testing Center
Note:
Sorry! Microsoft MCE Vouchers are not available at this moment.