Other Vouchers: A+ | Network+ | Linux+ | Server+ | Security+ | CASP | CTT+ | Project+ | PDI+ | CTP+ | Storage+ | Cloud | CDIA+

CompTIA Strata test voucher is also referred to as CompTIA Strata voucher, CompTIA Strata exam voucher, CompTIA Strata discount voucher, or CompTIA Strata certification voucher.
CompTIA Strata test voucher is a discounted, pre-paid permit to write the exam. Usually, you would pay the regular price to Prometric, VUE, or local testing centers for your Strata exam. But to take advantage of our voucher program, you can purchase the discount Strata test voucher from us and save money immediately on your CompTIA Strata exam. The voucher number is all you need to register and take your exam. You don't have to pay any extra fee. To learn more about our voucher program, click Here.
This page is for North America Voucher only. For the vouchers to be used outside of US, Canada and Puerto Rico, please click International Strata Voucher.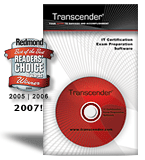 MeasureUp and Transcender's products have been used by thousands of computer professionals worldwide to prepare for their CompTIA, Cisco, LPI, Microsoft, and MOS certification exams. With MeasureUp and Transcender, you can be sure you're completely prepared and you can feel confident that you have the extra edge you need to pass the exam. See MeasureUp | Transcender for more details.
Our VUE Strata Vouchers can be redeemed at Pearson VUE testing centers. No Prometric Strata Vouchers available at this moment. Please locate a testing center near you before purchasing the Strata voucher.
IMPORTANT, MUST READ: Effective July 9, 2012, CompTIA exams will be delivered exclusively with Pearson VUE and will no longer be available at Prometric testing centers. July 8, 2012 would be the last day to register and take an exam at a Prometric Test Center. All unused Prometric vouchers that have not expired will be valid in the Pearson VUE system and you must schedule your exam with Pearson VUE. more >>
Locate a testing center near you: Pearson VUE Testing Center
Our CompTIA Strata Test Vouchers are all bundled with the reference guide without extra charge. See CompTIA Strata IT Fundamentals (FC0-U41) Test Voucher Bundle for details.
Through our Vouchers-In-Minutes services, you can get the Strata voucher and download the study guide just within few minutes after placing your order. No holiday, no weekend, we work 24x7 for you !
CompTIA certificates include fundamental and advanced credentials that validate an understanding of basic to specialized technology in the workplace.
Our test voucher bundles for CompTIA certificates include: