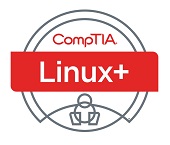 Currently there are two types of CompTIA Linux+ certifocations available:
(1) CompTIA Linux+ Powered by LPI, which consists of two exams: LX0-103 & LX0-104, and the candidates must pass these two exams in order to obtain the certification. CompTIA Linux+ Power by LPI will be available through October 1, 2019. CompTIA Linux+ Powered by LPI covers common tasks in major distributions of Linux, including the Linux command line, basic maintenance, installing and configuring workstations, and networking.
(2) New CompTIA Linux+, which consists only one exam: XK0-004, and it is for the IT pro who will use Linux to manage everything from cars and smartphones to servers and supercomputers, as a vast number of enterprises use Linux in cloud, cybersecurity, mobile and web administration applications. In the new CompTIA Linux+, candidates are only required to pass one exam for certification. However, the new certification is no longer eligible for the LPI 2-for-1 offer.
Visit CompTIA's Official Web Site for more information.