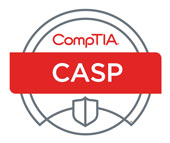 The CompTIA Advanced Security Practitioner certification designates IT professionals with advanced-level security skills and knowledge.
The CompTIA Advanced Security Practitioner certification is an international, vendor-neutral exam that proves competency in enterprise security; risk management; research and analysis; and integration of computing, communications, and business disciplines.
Visit CompTIA's Official Web Site for more information.

CompTIA CASP+ test voucher is also referred to as CompTIA CASP+ voucher, CompTIA CASP+ exam voucher, CompTIA CASP+ discount voucher, or CompTIA CASP+ certification voucher.
CompTIA CASP+ test voucher is a discounted, pre-paid permit to write the exam. Usually, you would pay the regular price to VUE, or local testing centers for your CASP+ exam. But to take advantage of our voucher program, you can purchase the discount CASP+ test voucher from us and save money immediately on your CompTIA CASP+ exam. The voucher number is all you need to register and take your exam. You don't have to pay any extra fee. To learn more about our voucher program, click Here.
This page is for North America Voucher only. For the vouchers to be used outside of US, Canada and Puerto Rico, please click International CASP+ Voucher.
Our VUE CASP+ Vouchers can be redeemed at Pearson VUE testing centers. No Prometric CASP+ Vouchers available as CompTIA exams are delivered exclusively with Pearson VUE only. Please locate a testing center near you before purchasing the CASP+ voucher.
Locate a testing center near you: Pearson VUE Testing Center
Our CompTIA CASP+ Test Vouchers are bundled with reference guide(s) without extra charge.
This valued CASP+ Test Voucher Bundle includes:
One CompTIA CASP+ test voucher (Retail $452), which can be used for one CompTIA CASP+ exam (CAS-003)
Reference Guide: Glossary for CompTIA Exams (130 pages in PDF format)
Note:
1.
Vouchers, study guides, practice exams, and online courses are all non-refundable, and the voucher expiration date cannot be extended. Please see Important Notes for Test Voucher and All Other Products.
2.
CASP+ vouchers are only valid in US, Canada and Puerto Rico, and will be delivered via email in 12 hours. One test voucher is good for one exam only.
3.
If you fail the exam using the voucher from Retake Bundle, you will receive a retake voucher for a second attempt at the failed exam. The transcript must be emailed to us for the validation, then we will send you a retake voucher via email. There is maximum 1 retake included in this bundle.
4.
All E-Books and PDF materials have been licensed from Exam Success Pro and TotalRecall Publications Inc, all rights reserved.