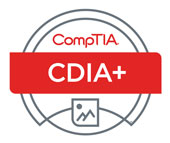 CompTIA Certified Document Imaging Architect (CDIA+) certification ensures critical knowledge for a career in the document imaging and document management industry.
The international, vendor-neutral certification covers all major areas in the technologies and best practices used to plan, design, and specify a document imaging management system. Skills and knowledge measured by this exam is representative of a document imaging professional with 12-to-18 months on-the-job experience.
Visit CompTIA's Official Web Site for more information.

CompTIA CDIA+ test voucher is also referred to as CompTIA CDIA+ voucher, CompTIA CDIA+ exam voucher, CompTIA CDIA+ discount voucher, or CompTIA CDIA+ certification voucher.
CompTIA CDIA+ test voucher is a discounted, pre-paid permit to write the exam. Usually, you would pay the regular price to VUE, or local testing centers for your CDIA+ exam. But to take advantage of our voucher program, you can purchase the discount CDIA+ test voucher from us and save money immediately on your CompTIA CDIA+ exam. The voucher number is all you need to register and take your exam. You don't have to pay any extra fee. To learn more about our voucher program, click Here.
This page is for North America Voucher only. For the vouchers to be used outside of US, Canada and Puerto Rico, please click International CDIA+ Voucher.
Our VUE CDIA+ Vouchers can be redeemed at Pearson VUE testing centers. No Prometric CDIA+ Vouchers available as CompTIA exams are delivered exclusively with Pearson VUE only. Please locate a testing center near you before purchasing the CDIA+ voucher.
Locate a testing center near you: Pearson VUE Testing Center
Our CompTIA CDIA+ Test Vouchers are bundled with reference guide(s) without extra charge.
This valued CDIA+ Test Voucher Bundle includes:
One CompTIA CDIA+ test voucher (Retail $), which can be used for one CompTIA CDIA+ exam (225-030)
Reference Guide: Glossary for CompTIA Exams (130 pages in PDF format)
Note:
We don't offer CDIA+ Voucher Bundles any more as CompTIA CDIA+ exam has retired. Please visit http://www.comptia.org for more detail information.