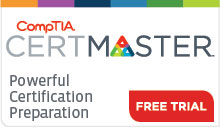 Our Best Offer
CompTIA A+, Network+, Security+, Server+, CTT+ One-On-One Online Courses
Pass Guarantee Online Course
A+, Network+, Security+, Server+, CTT+ Online Course
CompTIA Exam Training Materials
A+, Network+, Security+, Server+, CTT+ Practice Exam
CompTIA Certification Online Training
A+, Network+, Security+, Server+, CTT+ Training Courses
Discounted CompTIA Training Courses
A+, Network+, Security+, Server+, CTT+ Online Training
Discounted Prices CompTIA Courses
A+, Network+, Security+, Server+, CTT+ One-On-One Online Courses
A+, Network+, Security+, Server+, CTT+ Corporate Onsite Training
CompTIA Training Materials
A+, Network+, Security+, Server+, CTT+ Transcender Practice Exam
CompTIA Certification One-On-One Coaching
A+, Network+, Security+, Server+, CTT+ Courseware
Discounted CompTIA Worldwide Online Learning
A+, Network+, Security+, Server+, CTT+ Online Coaching
CompTIA CAQC Training Materials
CompTIA Authorized Contents
CompTIA A+, Network+, Security+, Server+, CTT+ Corporate Online Training
CompTIA A+, Network+, Security+, Server+, CTT+ One-On-One Course
Pass Guarantee Online Learning
Order Now
Reviews and Feedbacks on Tcat Houser
See What People Are Saying About Tcat Houser ...
To whom it may concern - below is my critique/comments on Tcat Houser
My Background
As part of my 22 year US Navy career, I spent a tour instructing telecommunications to mid-grade Sailors. That three year tour included a 30 day formal instructor training course, curriculum writing, over 1000 hours podium instructing and also preforming formal evaluation on fellow instructors. I was personally critiqued on a quarterly basis, and was designated Master Training Specialist (MTS) by the Chief of Naval Education and Training.
Tcat Houser
I entered into this training endeavor with the purpose of earning my Security+ certification, a requirement for an employment opportunity presented to me. I wanted to achieve this as quickly as possible and I had some trepidation going in as it has been many years since I had undertaken any formal, graded training or course of instruction.
Upon meeting with Tcat, I knew I was in for a "different" training experience. I expected a laid out plan with specific topics, review material, hand-outs, notes, review sessions and "q and a" sessions. Instead of the "standardized" training methods, Tcat focused on the "HOW" to study with content second. We discussed learning strategies, and how to best utilize brain processes coupled with the technical data required to learn AND UNDERSTAND the topics. I found this approach quite refreshing and very useful.
Tcat was ALWAYS positive and focused on my learning. He ensured I was completely comfortable with any and all topics. His use of analogies and providing multiple examples when explaining technical subject matter was spot on, all the time. After a few initial discussions, he quickly grasped the method that worked best for me; he would discuss any topic, any number of times, to ensure I had the concept down pat. I always felt at ease in our conversations and he told me many times "call me whenever, day or night." I can assure you, we easily exceeded the contracted one-on-one study time; whenever I brought that aspect up, he assured me "not to worry about it, I am here to ensure you become a technical guru!"
At times I would stumble, or have doubts about my ability to comprehend the information; he was always in my corner saying things like "Jim, you already have passed this exam, CompTIA just does not know yet."
In closing, Tcat was an encouraging, upbeat and unique person who was totally dedicated to my success. I thoroughly enjoyed out learning sessions and (many) ad-hoc conversations. Without hesitation or reservation, I fully endorse him as a technical trainer and would recommend him to others who seek similar learning experiences. Hopefully I will engage him again in future studies efforts.
Best regards,
Jim Hessman on June 1, 2013
Just wanted to let you know I bought the statements to Remember from Tcat Houser and they worked wonderfully for passing the A+ exam. I work and have to drive for my job all over and don't have time to crack a book open when I drive.....
I would not have been able to pass without it. I wanted to let you know how effective it was because others could really use this to pass the exam especially if they don't have the time to crack a book open.
Thanks,
Michael Goshen on June 3, 2013
Hi Tcat,
I hope this email finds you well. This is a follow-up message to the CTT+ class that I attended in Vegas. I wanted to let you know that the skills I learned there have helped me take my presentations to a higher level. Since attending the class, I have received consistently high evaluation scores on my presentations. Thank You!
I have not yet sat for the CTT certification test, but plan on doing so sometime in the fall. I am interested in becoming a part-time instructor for an outfit like NetCom or other professional education house. I wanted to get your opinion on the best way to proceed.
I also wanted to follow-up on your book effort? Has it gone to publication yet? If so, I hope the sales are going well. I couldn't remember if we were to receive a copy or not.
Regards,
Dean Virag on Sep. 10, 2010
.....
....
..
( Too many to post ... )